FIRST Robotics of Michigan recently caught up with Dr. Elmer Lee for an interview. We wanted to share some of Dr. Lee's thoughts and involvement in FIRST Robotics and his personal commitment to mentoring the young minds involved with STEM. Here are some of the highlights:
Q: WHAT IS INNOVATE ALBION?

INNOVATE Albion is a STEM education hub that focuses on teaching engineering through hands-on learning. We are sponsored by Caster concepts and Conceptual Innovations based here in Albion. With the support of FIRST in Michigan, we also received a generous grant from the Argosy Foundation that provided the seed funding to purchase our computer workstations and our machine shop equipment.
The idea behind all of this started about eight years ago. We were finding that the engineers that we were hiring weren't from our neck of the woods. These engineers were staying for a couple of years and then leaving for bigger venues in Detroit and Chicago. We made a conscious choice to mentor FIRST teams by searching and building talent in the community. We support students through high school and college and eventually find them a position here in Albion.
"We go beyond the math and the formula and help students connect with technology and really become passionate about a career in engineering. This is a space where failure is celebrated as a gateway to learning."

-Dr. Elmer Lee
Q: WHAT IS YOUR SUSTAINABILITY MODEL AT INNOVATE ALBION?
We knew when we started INNOVATE Albion that we couldn't rely on grant funding. So I had an idea, call it a pipe dream, to hire interns to help us develop technology that we could turn into products and sell.
Here's a great example. In 2018, when I was four years into mentoring the Concord Robotics program, I asked the kids to develop a traction differential swerve drive. That led to our swerve Mobile which I just happened to show a Boeing engineer. He asked if that technology could be used to develop an Omni-Directional Drive System that could carry 10,000 lbs. Fast forward six months and Boeing is using one of our Omni-Directional Drive Systems to help them manufacture planes. Today, I have six more projects based on this technology that's being used in aerospace, military production, and scientific research companies.
What's really awesome is that the same interns who help create the swerve mobile are also the ones who came back to help assemble and test our Omni-Drive Directional product. It proves that the skills they have learned are directly translatable to the real world.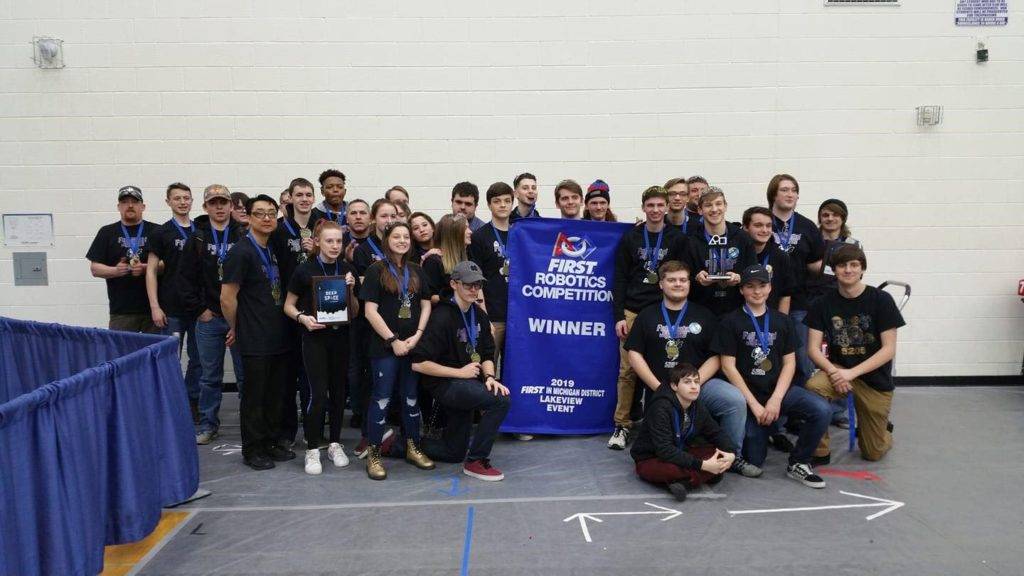 Q: Where do all these ideas come from?
We are fortunate that Conceptual Innovations and Caster Concepts recognize that there are no limits on innovation. So interns work on projects that they are passionate about. One of our interns is developing a pizza bot so he can send the bot down the block to pick up his pizza for lunch.  All these technologies that we are using in FIRST do a good job of training these students to develop their skills. We teach CAD programming and use those skills to teach more capable project skills. It's not just about the formula or the math, it's just as much about tangible applications.
Q: HOW DO YOU GET AN INTERNSHIP AT INNOVATE ALBION?
For any students interested in getting an internship, the first step is to join FIRST Robotics. My mentoring first robotics is the best interviewing process I could ever create.  I work with a lot of teens in the Jackson area and have gotten to know a lot of kids in various high schools. What FIRST teaches is programming, CAD, mech design, electrical design as well as hard work and dedication. All the things that we look for in interns to bring to these projects.