MATERIAL HANDLING SOLUTIONS THAT INCREASE PRODUCTIVITY & SAFETY
We solve one of the greatest challenges in the industry, how to increase productivity without risking safety. Rely on Conceptual Innovations for standard, retrofit, and custom material mobility solutions that improve the bottom line.
HaloDrive Systems – Omnidirectional Mobility
Safely Move Massive Equipment and Enormous Loads with Extreme Precision
Conceptual Innovations HaloDrive Systems feature omnidirectional wheels that improve safety and increase productivity. Thanks to our patented technology, HaloDrive Pods provide unparalleled benefits and capabilities. HaloDrive Wheels are modular, enabling custom-configured HaloDrive Systems that can move just about anything, regardless of its, weight, size, or shape.
Add precision-controlled mobility to equipment up to 250 ft in length and weigh up to 50 tons.
Reduce risk of injury, as well as damage to equipment and products with simplified controls that do not require highly skilled labor or certification.
Improve productivity by increasing load per cart, while reducing risk of over-exertion with a single operator.
Save money by retrofitting existing equipment, and reduce valuable floor space required with standing start movement in any direction.
Learn More
Drive Caster™ - Industrial Motorized Caster
The industry's first motor-powered industrial caster, the Drive Caster™ is an innovative solution for material handling mobility. The Drive Caster™ has an integrated motor, which makes it extremely versatile. It can be mounted to a wide range of equipment including carts, racks, dollies, moving walls, turntables, platforms, machinery, and more.
Quickly and easily add a Drive Caster™ to:
Increase productivity by easily moving up to 6,000lb loads
Improve ergonomic safety with zero-exertion, push button material movement
Save money by retrofitting existing equipment
Add mobility to a wide variety of equipment such as walls, platforms, turntables
A second Drive Caster™ can be integrated to easily move up to 10,000lbs, as well as enabling tank-style steering for greater control.
In addition, we have developed innovative equipment on the Drive Caster™ platform to assist with your industrial mobility needs.
Conversion Drive Caster – A fully integrated unit that integrates into existing equipment
Drive Cart – A motor-powered cart that can be towed long distances and is self-powered for delivery to production cells.
Learn More
MATERIAL HANDLING MADE EASY.
Conceptual Innovations leverages a variety of manufacturing capabilities to reduce design time and expenses for custom applications. We also optimize standard and retrofit solutions to maximize efficiency and minimize expenses. Consider us a hybrid between a cost-effective and agile fab shop and a versatile, full-service engineering firm.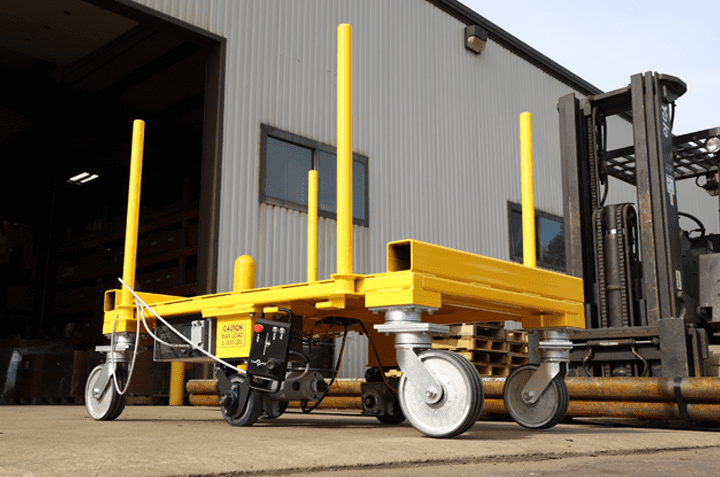 ---
HOW TO CHANGE THE MAXIMUM SPEED OF YOUR DRIVE SYSTEM
What a great decision you made purchasing a drive system. Have you been enjoying learning all the different ways the new drive system an benifit you work environment? After testing the system, you realize the speed isn't exactly what you were planning. Maybe it's a little too fast or too slow. Whichever it is, [...]